This Newsletter is a special report from the Pro Photo Summit in Redmond, USA.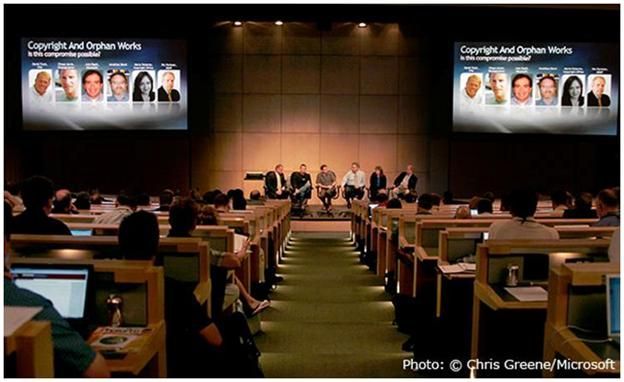 Orphan Works panel. Photo: © Chris Greene/Microsoft

Databases Everywhere
It seemed like every second application at the Microsoft Pro Photo Summit was adding a database. These events are opportunities to have a sneak peek at where developers are taking the next version of their software. The challenge is to have all these databases share information and the key is metadata. Everyone was talking metadata.

Metadata Mess
Metadata is a mess. All vendors adopt different standards or parts thereof. This adds up to confusion for other applications and most importantly the end users. Thankfully Microsoft are pushing hard for a common standard. Yes you read that correctly – Microsoft. Adobe and the IPTC have worked hard in this area and now with Microsoft we have the two largest software companies in the world pushing for compliance. This includes persuading the camera manufactures to agree on a standard. Which adds weight for MetaRAW.

Trust Me
Orphan Works was another panel discussion and part of the solution is also metadata. However metadata in its current form is too venerable to be the only solution. That venerability is also being addressed. Nevertheless the Orphan Works Bill is coming – expect it during the 110th Congress around October 2007. One lawyer was shocked that photographers don't trust their clients to make a "good faith, reasonably diligent search". Funny how Microsoft and Adobe don't trust their clients either and use activation for their software.

Digital Rights Management
If photographers were as powerful as Hollywood or the Video Game Industry then we would have a Digital Rights Management solution. As one photographer once asked maybe our images should implode after the usage date lapses. I never recommend punitive action to enforce rights management preferring education. Perhaps Microsoft and Apple could add some small features such a © symbol in the Title Bar that when clicked on opened copyright information, just like Photoshop. Groups like the PLUS have been working hard to simplify licensing. The PLUS metadata panel will be in Photoshop and read by photo buyers/users. Imagine if your image is being printed at Costco and a warning pops up to alert the operator of copyright and usage. It is happening.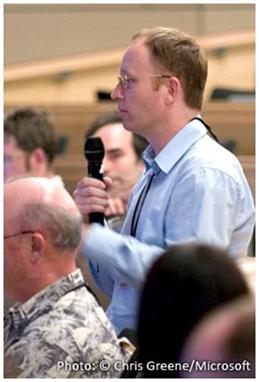 Robert Edwards from DAMsimple. Photo: © Chris Greene/Microsoft

One of my longstanding questions was answered by the DRM Panel. If a person deliberately strips metadata to remove copyright information they are infringing the Digital Millennium Copyright Act. Of course the trick is to prove it.


Goodbye Photography?
Another interesting panel discussed the rise of video capture by traditional still news photographers. TV has a much wider reach and newspapers printed circulation is declining while online subscriptions are rising. Photojournalism with a video is nothing new, just ask Dirck Halstead. What is new is the perceived threat of screen capture from HD Video which is already happening. Coming from a television background I light and compose video very differently to stills. If you're struggling with a DAM solution for digital images just wait until you try and catalog video.

Access Images Everywhere
Today it's feasible and economical to have 24/7 access to your images. There are many solutions including so-called Cloud Storage as offered by Digital Railroad and Got_it. Many photographers use their own servers to the same affect but this opens a whole lot of not-so-good best practises with DAM and backups. RAID is not something the average photographer should attempt on their own.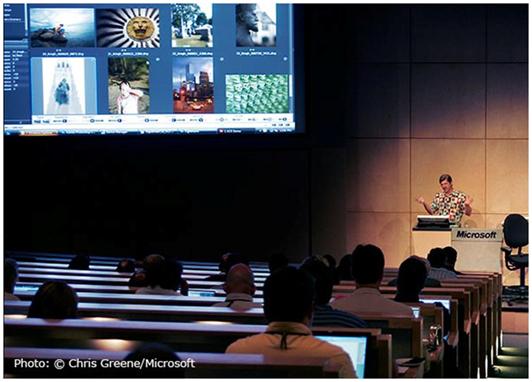 Peter Krogh demos Rapidfixer. Photo: © Chris Greene/Microsoft

Congratulations to Peter Krogh who was inducted into the Icons of Imaging (link archived). The DAM Guy as he was referred to at the Summit is a long time advocate of digital standards and this award recognises Peter as a dam(n) fine photographer. Overall the Pro Photo Summit was a great success without any hard sell from Microsoft. As demonstrated last year and reinforced this year Microsoft are taking the pro photography market very seriously.

I hope you enjoyed the DAM Newsletter. Please remember to subscribe at www.DAMsimple.com to stay up to date with the Digital Workflow and Digital Asset Management plus for your chance to win a copy of Microsoft Expression Media.