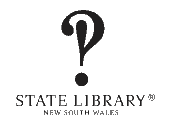 Alan Davies, The State Library of New South Wales Photography Curator, retires today. He is a living encyclopaedia with an uncanny ability to recall, name and place images from memory. Alan is also one the most approachable people who was ready share and assist in researching images despite having a busy schedule. His contribution in preservation and passion for both the history and art of photography will be missed.
Alan led the State Library team as they digitised one of Australia's most important historical photography treasures: the Holtermann Collection.
Thank you Alan for helping to conserve our rich, visual history for future generations.