Henry Talbot: 1960s Fashion Photographer is on at The National Gallery of Victoria until 21 August 2016. Together with Helmut Newton he was an indispensable part of bringing a new chic and sophistication to Australian fashion photography. Henry's fashion images show models outside of the studio, on location on the streets of Melbourne, at race courses, even in Papua New Guinea.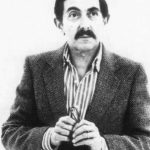 Henry was an enigmatic character who's life would make for great film. In fact part of his life was depicted in the TV series The Dunera Boys. Born in Germany he studied art before escaping Berlin with other Jews to London before WWII began. Like many Germans of the time he was considered a risk so shipped (along with future colleague Helmet Newton) to Australia aboard the HMT Dunera.
In the 1990s I was lucky enough to work with Henry in Sydney at the L&P School of Photography along with cinematographer Ossie Emery. Henry was a quiet and frail gentleman who taught students how to light and pose people. Most students I dare say had no idea who Henry was or that they were in the presence of one of the countries most influential photographers. In his honour The Australian Institute of Professional Photography has the Henry Talbot Award for Services to the Photographic Industry. I'll always remember Henry as an extremely generous, witty and knowledgable bloke with a wicked sense of humour. To this this day I continue to be influenced by Henry's photography and steal borrow his jokes.