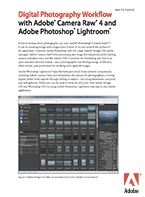 Adobe commissioned Robert Edwards to write a whitepaper on Digital Photography Workflow using Adobe Photoshop Lightroom.
If you're serious about photography, you own Adobe Photoshop Creative Suite. It can do amazing things with images even if most of us only scratch the surface of its capabilities. Combine Adobe Photoshop with the visual Adobe Bridge media manager, Adobe Camera Raw for processing raw image formats produced by leading camera manufacturers, and the Adobe DNG Converter for translating raw files to an open-standard archival format and a photographer has the beginnings of efficient, albeit modal, post production for working with captured images.
Adobe Photoshop Lightroom takes the best parts of all these software components, including Adobe Camera Raw, and streamlines the process for photographers, moving digital photos from capture through editing to output including slideshows, and print and web galleries. While you can do most of what we will cover with Adobe Bridge and Photoshop, by using Adobe Photoshop Lightroom you stay in one Adobe application.
Click here to download the free PDF (5.21MB).