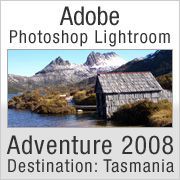 Adobe Lightroom Adventure
In April 2008 Robert Edwards was invited to join a group of internationally renowned photographers who travelled to the end of the world, literally, to the remote island of Tasmania. Our mission was to road test specialised digital photography software designed by Adobe while capturing images from one of the world's most mysterious and varied geographic locations.
Using Adobe Photoshop Lightroom, photographers uploaded, sorted, keyworded, adjusted, and output their Raw images while still working in the field. Watched by the world, viewers read their stories, saw the images, and watched the photographers discuss this challenging assignment.