Phase One (Microsoft) Expression Media – Free software offer – ACT NOW!
For loyal iView users the wait is over regarding the future of Microsoft Expression Media. For over 12 months Microsoft have been looking for a buyer for Expression Media. Phase One have acquired Expression Media from Microsoft. Initially it will still be known as Microsoft Expression Media. Phase One are offering special deals until 30 June on Expression Media 2 and Capture One 5. Owners of either app will be able to get the other free. Or new buyers can get Expression Media 2 for just $49.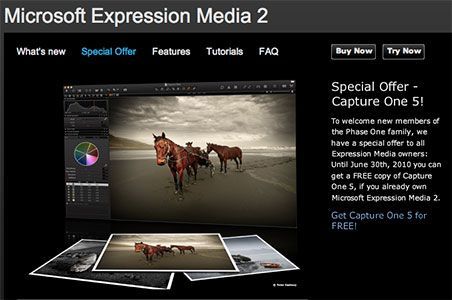 Phase One acquire Expression Media.
What does this mean for Expression Media? Firstly Phase One have demonstrated a clear commitment to iView and Expression Media owners, old and new, with the offers above.
Initially Capture One and Expression Media will remain separate apps. Their integration will continue to improve. Even at Microsoft integration had already begun between Expression Media and Capture One.
You would think the next version of Capture One will have to be a database-driven app in order to compete with Lightroom, Aperture and Bibble. For DAM Expression Media is ahead of Lightroom, Aperture both in terms of user interface and architecture. Adobe and Apple are making mistakes the team at iView Multimedia found solutions for years ago. Look at file filtering for example.
The folks at Phase One don't believe your raw converter and DAM software should be linked.
But the truth is Expression Media has stagnated for at least 18 months. And in the fast changing world of DAM standing still means you are effectively going backwards. Phase One need to be as nimble and as fast as the engineers at iView were, perhaps even more so.
Expect a minor update very soon.
Phase One Capture One 5 improves metadata – More options
The latest version of Capture One now handles IPTC and XMP metadata. Previously Capture One only supported legacy IPTC. Now users can choose how Capture One 5 reads metadata and (Adobe) XMP sidecar files:
Prefer Embedded XMP over Embedded IPTC
Prefer Sidecar XMP over Embedded XMP
This video by Walter Borchenko that demonstrates the metadata handling in Capture One:
http://www.youtube.com/watch?v=u1k9IyFtjn0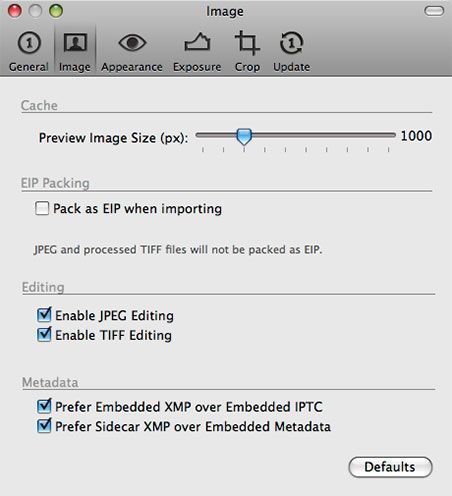 Capture One 5.1.2 improves legacy metadata handling
Adobe Photoshop Lightroom 3 – Now available!
The focus on this version is improved image quality. The new image processing engine in Adobe Camera Raw 6 is the biggest improvement to date. A major benefit for capturing in raw format is you can re-process legacy images and make better images. You'll see improved noise removal (sic) and sharpening. A appreciate the lens correction features including perspective control. All these settings can be burned into the XMP metadata for prosperity and saved inside DNG raw files.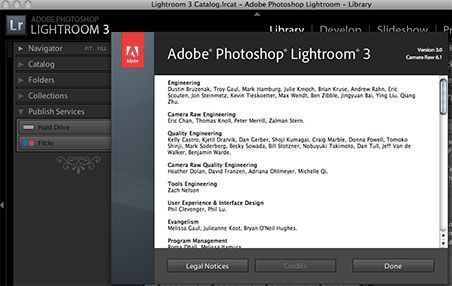 Lightroom 3 released.
So will Lightroom 3 be OK for DAM? LR is good for single user DAM set up. To be clear, LR does not play nicely in a mixed, multi-user environment. While it can, and I have set up several studios to do it, LR used amongst a group of photographers requires strict discipline. In other words, strict workflow guidelines. This may change before the end of the year – watch this space!
Unfortunately most photographers are not well disciplined! The safest way to use Lightroom to manage your image collection is to only use Lightroom when handling your images. Do not use Bridge, the Finder, Windows Explorer, or any other DAM application.
Lightroom 3 will catalog movie files generated by still digital cameras such as the latest DSLRs. The goal by Adobe is to manage any file type generated by your digital camera. Lightroom 3 will import, rename, move and annotate movie files. The annotations cannot be written back to the movie file. Lightroom 3 will not play them either, instead opening the selected movie in the default player for your computer (Apple QuickTime, Windows Media Player, etc).
Download a trial version of Lightroom 3 here:
http://www.adobe.com/products/photoshoplightroom/
John Beardsworth's Lightroom Plugins – Essential for DAM
I've mentioned John's plugins before (Search Replace Transfer) and some are now available for purchase. If you want to use Lightroom 3 for DAM these plugins are essential!
Open Directly: Allow you to open images from LR into most other programs like Capture One, Nikon Capture, Bibble, etc. While you won't get the roundtrip experience LR offers with Photoshop, Beardsworth's plugin allows you to use a different raw converter than Adobe Camera Raw yet still manage your images in Lightroom. Just to confuse matters I use it the opposite way… once DNGs are created in Lightroom I open them (catalog them) in Expression Media. :). I use Lightroom simply as a raw converter, which precisely what it was initially designed for.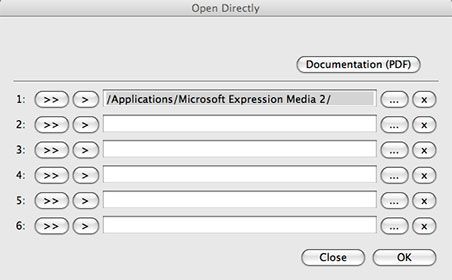 Open Directly Lightroom plugin.
For more details on the Lightroom plugins visit:
http://www.beardsworth.co.uk/lightroom/

Adobe Photoshop CS5 – New metadata support
The Creative Suite CS5 was released before Lightroom 3. Unlike Photoshop CS4, CS5 will be a must have upgrade for photographers for the reasons explained above in Lightroom 3. Better image quality. And you'll need Photoshop CS5 to take advantage of the improved adjustments in Lightroom 3.
New IPTC Extension panels including support for PLUS are in Photoshop CS5/Lightroom 3. These include fields to describe people in the picture.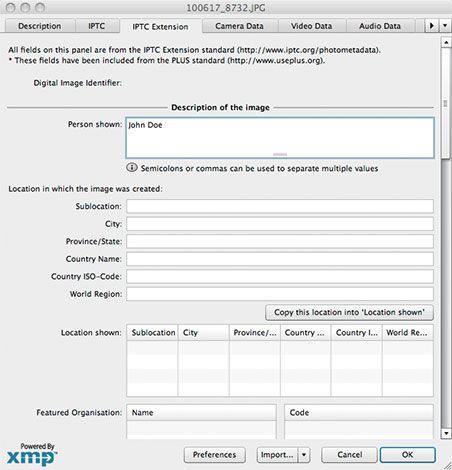 New metadata panels in Photoshop CS5.
Some people (including me) have experienced installer issues on Mac. If you use FileVault to encrypt your personal data (highly recommended on laptops) the Adobe CS5 installers can fail. If you experience this bug the only workaround at the moment is to turn off FileVault.
Trial versions of Photoshop CS5 are here:
http://www.adobe.com/products/photoshop/family/

dpBestflow – Great free resource
The American Society of Magazine Photographers won a grant from The US Library of Congress to research best practice in digital photography. This has resulted in the dpBestflow.org website and the 'Digital Photography Best Practices and Workflow Handbook' by Patricia Russotti and Richard Anderson. Richard is chief author off the Universal Photographic Digital Imaging Guidelines (UPDIG.org).
Richard Anderson is touring the USA with dpBestflow colleagues (including Peter Krogh) presenting seminars on Digital Photography Best Practices. Visit the dpBestflow web site for this great, free resource: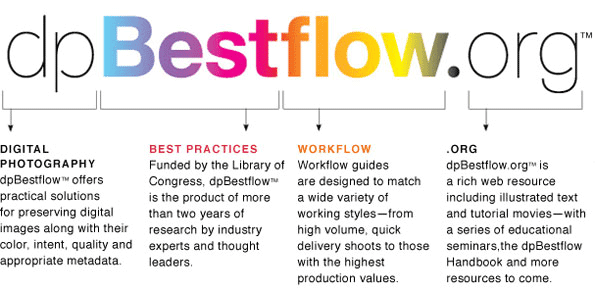 The Australian Institute of Professional Photography is proud to be bringing Richard Anderson to Australia for a limited number of seminars in October 2010. For more information on The Nikon AIPP Event visit:Â http://www.aipptheevent.com.au